[su_row][su_column size="2/5″ center="no" class=""]
Would you like to learn how to reach all of your students—from the most naïve to the higher performers?Then this is the course for you! Comprised of five modules, you will learn how to incorporate strategies for effective questioning in to your classroom. Strategies that allow you to assess and guide your instruction, provide effective feedback, check for understanding and generate classroom discussions.
You will learn five areas to focus on that will improve student performance and sharpen your instructional skills. You will create a tool box of alternative strategies on how to reach your most naïve students.
[/su_column]
[su_column size="2/5″ center="no" class=""]

The idea of differentiation can be overwhelming.Our intention is to bring it to you one small step at a time that ends in an action plan that won't overwhelm you. Whether you are a new teacher looking for strategies on how to meet the needs of all your students or an experienced teacher looking to expand your skill set, this course has something to offer you.
From learning what differentiated instruction is and is not to use of the Gradual Release of Responsibility to planning differentiation strategies that are effective for your most naïve group of students the course (comprised of five modules) offers step by step guidance that enables you to use explicit instruction strategies that result in a clear plan for the use of differentiated instruction in your classroom while it increases positive interactions between teacher and student.
[/su_column]
[su_column size="1/5″ center="no" class=""]
Are you looking to identify strategies that improve instruction?
Are you a teacher self-identifying areas of growth?
Are you an administrator looking to provide concise, practical and evidenced based tools to your teachers?
Are you looking to make your classroom visits opportunities for growth for both teacher and administrators?
[/su_column][/su_row]
[su_row][su_column size="2/5″ center="no" class=""]

Would you like a classroom of engaged students, focused on learning?Are you interested in decreasing acting out behavior that distracts from instruction and learning? Do you want to increase the time spent on instruction? "Increasing Student Engagement" can help you with these and more.Research supports the connection between engagement, achievement and school behavior across levels of economic and social advantage and disadvantage. Experience tells us that classrooms with high levels of student engagement are a more welcoming environment for both the teacher and the student.
In this three module workshop you will learn to use a variety of evidenced strategies and tools such as grouping students effectively for interactive discussions and activities, increasing use of formative assessments to drive next steps, as well as variety of activities and assignments within a lesson to increase student engagement.
[/su_column]
[su_column size="2/5″ center="no" class=""]


Searching for effective and efficient ways you can use assessments to guide your instruction?Would you like to learn how to use your learning targets to formulate formative assessments? How you can create learning targets that are clearly defined and direct your teaching? Then this three module workshop "Using Assessment in Instruction" can help. This course will address:
Assessment Criteria for Success
Monitoring Student Learning and Providing Effective Feedback
Self and Peer Assessment: Student Reflection to Deepen Learning
Research shows that regular and high-quality formative assessment in the classroom can have a positive effect on student achievement. There is firm evidence that strengthening the frequent and effective feedback that students receive from formative assessments lead to substantial learning gains. In addition, the perceptions of students and their role in co-creating success criteria and assessments have a significant impact on student performance. Students who can self-assess their own work are more motivated to learn.
[/su_column]
[su_column size="1/5″ center="no" class=""]
Whether you are an administrator looking to provide practical, evidenced based strategies to your teachers after a classroom visit or a teacher self-identifying areas of growth, CLU's Online Professional Development meets your needs!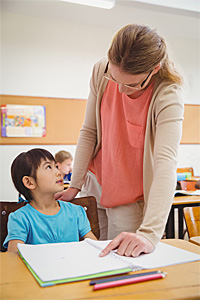 [/su_column][/su_row]
Testimonials
[su_row][su_column size="1/5″ center="no" class=""]
The skill of a teacher is the number one factor in determining student achievement. This on-line professional development delivers the information and strategies to improve those skills and is the best I have seen in my career as an educator.
~ Fred Bragan, Retired School Superintendent
[/su_column]
[su_column size="2/5″ center="no" class=""]
There are a million workshops on how principals can use the Danielson Framework and other similar frameworks to IDENTIFY areas of growth—how to hold pre-conferences, measure proficient from developing teachers and so on and so on. This is NOT that. CLU's Online Professional Development is a tool that can and should be used by both administrator and teacher. It provides evidenced based and field proven strategies on what to do and how to do it. It is a one stop shopping- no need to go looking in different places to fill the need- it's all in one place 100% aligned to the rubric.
~ Janie Feinberg, President, Classical Learning Universe
[/su_column]
[su_column size="2/5″ center="no" class=""]
There is a lot to be said regarding your positivity towards teachers that will make the videos well received. Your tone is spot on, feeling that the guidance is aimed to improve and hone skills, and build more effective methods and pedagogy for instruction.
I could see this purchased by districts with a few applications. For instance, districts could use the online PD as training for staff. As an orientation tool the online PD would be great. It's something I would have loved to watch with my mentor teacher.
~ Peter Massi, Teacher
[/su_column][/su_row]
Ask about how you can earn micro credentials. Please call the Registrar, Mr. Fred Bragan, 315-447-2617.
To enroll in a course AND earn micro credentials click on "Enroll Here" link below.

All of our classes for individual teachers carry a 30-day money-back guarantee.
Call Us
to inquire about group discounts and scholarships.